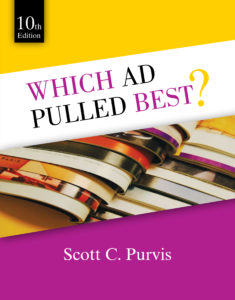 The Iconic Workbook for Advertising & Marketing Students
Which Ad Pulled Best? is the popular teaching aid for college students and professors.  It consists of a workbook for students and an answer guide for instructors.  The book, with its unique approach of using contrasting ad pairs and actual research results, reveals and clarifies underlying principles that apply in practice, not just in theory, to a result that is both art and craft.
Now in its tenth edition, carefully selected ad pairs help students identify and consider differences in content and execution that influence performance.  Updated text summarizes ad research testing protocols and fact-based elements that can contribute to or detract from an ad's effectiveness.  Interviews with leading creative minds in the advertising industry offer their lessons learned about what makes for effective advertising, where the industry is heading, and about the advertising profession is like.
The Instructor's Guide is needed for getting full value from the book because it contains the Answer Key for the ad pairs that are presented; reviewers rate the book highly when they purchase the Instructor's Guide.
Completely updated with current ads and recent interviews.
Full color ad pairs cover a wide range of product categories.
Interviews with professionals give insight to the advertising profession.
Instructor's Guide features actual performance scores as well as a detailed description of the ad elements that contributed to or detracted from the ad's effectiveness.